Every once in a while, there is a franchise that I get excited about. At a franchise conference, I got to met Anna Kaiser, the founder and celebrity trainer at AKT Dance Studios in Manhattan. She has always been excited about her brand but now she is really on fire because now, she is able to bring the concept to every corner of the globe through franchising.
What is AKT?
AKT is a dance concept, deeply rooted in movement and positive energy. Is this just a franchise trend for 2019? I don't think so. It's backed by the celebrity of Anna in addition to the money and knowhow of Xponential fitness.

Fueled by positivity and a belief that movement has a powerful, lasting impact, AKT is for all body types and fitness levels. With this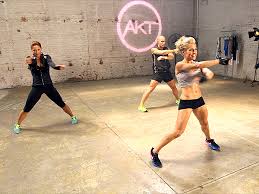 positivity and combination of personal training and movement-based technique, AKT empowers members to become stronger in their bodies, minds, and communities - and they have fun doing it!
With AKT's carefully curated playlists, high energy music, disco ball bumping, and a supportive community, you will instantly feel welcome at AKT.
From the business perspective, AKT checks all the boxes when it comes to evaluating a great franchise investment:
1. Semi-Absentee - keep your full time job - manage the manager
2. Membership based revenue structure - recurring monthly revenue
3. No accounts receivable
4. Revenue is generated online 24 hours a day / 7 days per week
5. No Contracts, no long term customer commitment
6. Not labor intensive - 1 instructor to 25 client ratio
7. Destination Location: 2,000 square foot studio situated in secondary, less expensive real estate space
Dance has been around since the dawn of time. Consumers love dance hence there are four network TV shows based on dance. This is not a franchise trend. For more info and a video about this exciting concept, click here: https://info.tomscarda.com/akt-dance-franchise