People who are looking for a franchise investment often contact me for my free 15-minute call, pick my brain and at the end of our call say, I'd love to go further with you but..."I don't want to waste your time." I have to say, I do appreciate that sentiment and concern for my time. I don't want to waste the most precious commodity known to mankind, either. No one does. However, the reason a person says that to me is because they just are not sure if they will buy a franchise at the end of the process because they just don't know what they just don't know. That is fair. However, that is the exact reason WHY someone should talk with me. I help folks get clarity. My service provides education so that someone can make their own decisions about franchising based on facts. A recent survey conducted by the International Franchise Association found that more than 70 percent of Americans don't even know what a franchise is. That's where I come in.
Real Estate Agents, Executive Recruiters and Franchise Consultants, do their magic for free. In these types of professions they are paid by the seller for separating the wheat from the chaff, for finding the diamond in the rough, the needle in the haystack.
Yup, it's true, I do work with many people who never buy anything and I make no money in that scenario. At the same time, I provide a great service, free of manipulation and sales tactics and I think most of my clients appreciate that. I consider my time spent with people as marketing for my business. My goal is to make my candidate a franchise expert during our time together. All I ask for in return is a referral - if they trust me at the end of the proces. I also promise that a person going through my process will have such a great experience that if someone woke them up in the middle of the night and said, "Franchise!" Without hesitation, before even opening their eyes, they would shout, "Tom Scarda!" If I can get a person to that point, I've done my job.
Word of warning if you're not working with a consultant from a reputable company such as FranChoice. There are many people out there who call themselves a Franchise Consultant or expert. As a consumer, do some research on the person you decide to work with. These days it's easy, just Google the person's name and also visit their LinkedIn page. Top consultants and industry experts will have CFE designation at the end of their name. This stands for Certified Franchise Executive or Expert. This is a rigorous three year educational program someone goes through to be fully rounded on every aspect of franchising, not just franchise sales. This is the only designation recognized by the International Franchise Association. You can find out more at International Franchise Association's CFE Program. If the person does not have a CFE certification, it's not the end of the world. Did they ever own a franchise? I don't mean did they just invest in something. I am talking about quitting a job to change their life through franchise ownership. Did they rely on the franchise to put food on their family's table and pay their mortgage? Short of any of that, the franchise consultant you're dealing with may be just a hack - someone who didn't make it in used car or timeshare sales and now they're trying franchise sales. It's interesting that you will find franchise consultants who have even written a book about franchising yet they have never owned a franchise or truely took a risk like you are considering right now. If you are on the battlefield, wouldn't you want have someone next to you that who was in a battle before? Someone who knew how to look for land mines and traps? I know I would!
With 4,000 franchises in 90 different industries, finding the right one is a daunting task. A mistake could mean a huge financial disaster for you and your family. Be sure you're talking to a great franchise company and working with a solid, real-deal franchise consultant.
Talking with someone about franchising is never a waste of my time! I have been in their shoes. I have lived with the stress and experienced the gripping fear of stepping into unknown territory. I resigned from a government job, left a pension to own and operate a smoothie franchise. I sold that business and made good money on the way out. I then purchased a second franchise and failed miserably and lost almost everything. Although I have the fancy CFE and I was the number one franchisee among 200 units nationally, it was the failure that made me a franchise expert.
If you're thinking about a franchise, we should talk. You're not wasting my time. Learn the process of how to evaluate a franchise and also, exactly what my service provides. It's simple, just book a good time for us to talk on the phone. No obligation, no kidding. Just click the button to save your spot now!
However, you feel that you don't need a battle tested industry guy on your side - no hard feelings.
Whether we talk or not, I want you to have a free download copy of my 33-page Franchise 101 Guidebook. You will learn: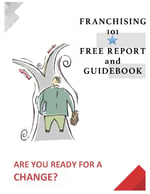 What is Franchising and why are people drawn to it?
If franchising is for you complete with a self test
Financial requirements and how to finance a business
Determining the Return on Investment (ROI) in a business
Evaluating support in regard to training and marketing
How to read the franchise documents if you go down the road with an investigation
Question to ask existing franchisees in the concept you're evaluating
If we do have a conversation, I guarantee one of three things will happen:
You will find out that franchising is not right for you, which is fine, it's not for everyone.

With your permission, I will let you know if I will see any red flags that might preclude you from being awarded a franchise, in my professional opinion. You have to be okay with hearing that it's not for you.

We might find the perfect business for you that will allow you reach your goals and take control of your own destiny.
I wish you the best in your franchise search!