The first day of 4th grade was profound for me. Sporting my new, crisp, freshly ironed Catholic school uniform, I could feel the excitement in the air as 20 boys, dressed just like me, filed into the classroom. The alphabetical seating assignments landed me in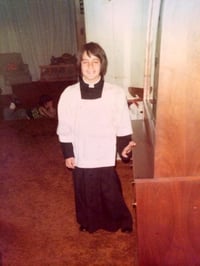 the second seat of the last row near the window. (Not great for a boy who day dreams a lot). As Brother Donald laid down the rules and regulations of his classroom, I stared wide-eyed at the class bulletin board. On that bulletin board, there was a saying that would change my life forever. It simple said, "Give a man a fish and he will eat for a day. Teach him to fish and he will eat for a life time." To my 10-year old mind, that was the most philosophical thought that had ever been articulated. Little did I realize in that moment, it was my calling. 30 years later I find myself teaching people how to fish.
My first real, adult job was working as a New York City subway conductor. I was given my first fish and it was a big one. That job was the fish that helped me to eat for 13 years. As a second career, I became involved in the franchise industry by purchasing a smoothie franchise. Little did I know at the time; I was about to learn how to fish. In essence, a franchise is a business with training wheels. A good franchise company will teach and support their franchise owners on how to become a great and a successful business owner. They hold the owner's hand through the learning process. They give best practices, from the basics of business ownership 101 to how to expand to multi-units and build an empire, if that's the path they choose.
During my franchise ownership tenure, I learned my lessons so well that I became an Area Developer for the smoothie franchise. As an Area Developer, I acted as a microcosm of the parent franchisor. That is, I sold new franchises in my area and then helped support those new franchisees. Now, I was teaching people to fish. Finally, I found my calling!
A few years later I sold my business and became a Franchise Consultant. As a consultant, I coach and advise people who are exploring franchise ownership. I help them understand the pros and cons of franchise ownership and teach them the strategies that I used to pick top performing franchises. Since 2005, I have been ushering people to the water showing them where the best fishing takes place in franchising. I take great pride and care in educating people about what's it's like to fish for themselves and eat for a lifetime. At the Franchise Academy, we continue the education so people who invest in a franchise can have a clear path to success. A successful franchise operation will add 10 to 20 jobs in a community. At that point, franchisees who I help to be successful, can then give jobs to others and also potentially help others to fish and own their own business, too.
Franchising is sometimes looked upon as a money making, capitalistic industry and to an extent, it is. However, the basic model of franchising to help people create and control their own destiny and not depend on others to "give them a fish." My grandmother used to say, "Even the best fish start to smell after three days."
If Brother Donald is still around, I hope he reads this and knows that his little construction paper saying on the bulletin board in that classroom in Brooklyn's Saint Thomas Aquinas Boy's Catholic School, had a ripple effect on other people around the United States some 40 and 50 years later. For that, I am personally and professionally grateful.
I am also reminded of another one of my favorite quotes by the great motivational speaker, Zig Zigler. Zig would say, "If you help enough people get what they want, you will get what you want."
I am so glad I chose to give up the fish that was given to me and leaned how to fish for myself. However, teaching others to fish for themselves has given me my greatest joy.
If you are thinking about giving up your fish and learning how to fish for yourself, my e-book, Franchising 101 Guidebook, can help.