As you investigate franchising and read articles and books, you will run across a bunch of phrases that are said by many various individuals. Are the phrases just clichés without merit, or are the clichés actually true? Here's my take on franchising clichés: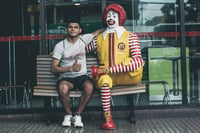 I think the most popular phrase in franchising is, "You're in business for yourself but not by yourself."
Companies trying to recruit new franchisees use this all the time. Depending on the company, sometimes it's true and sometimes it's not. All franchises do know how to support franchisees across the country. If a company's home office is in New Jersey and the fifth franchise they award is in Seattle, it might be a challenge to make that support felt three thousand miles away. When getting involved with a newer franchise, this is something to consider. When I purchased my first franchise in the smoothie industry, I was that company's first franchisee on the east coast. The smoothie mix that was proprietary to the franchise was made and shipped from Logan, Utah. I learned quickly that my cost to have this mix shipped to me was more expensive than for the franchisees in Denver, for example. That meant my cost of goods sold was a few pennies more on every drink sold. Of course, if you are considering a service business that does not require products to be shipped, such as a spa or a hair salon business, it doesn't matter as much.
"You don't have to reinvent the wheel."
Franchising is all about developing a company with a successful system and then finding a way to replicate the results. When you are a franchisee, you really don't have to start from scratch or reinvent the wheel because the experimentation is usually completed before the company offers franchises. It may sound cliché, but it is absolutely true—why spend years and years developing a product or service, creating brand awareness, finding a customer base and refining a marketing plan when someone else has done it for you?
"No industry experience needed. We will train you."
Most franchisors are not looking for franchisees with experience in a particular industry and actually prefer if the franchisee has no exposure to the industry. If they do have experience, they will bring bad habits with them. Instead, they want people with good business acumen, networking and marketing skills, and sales experience—or the willingness to be coached in these skill sets. That's why owning a franchise is often a great choice for someone choosing a second career, someone who has been downsized, or who is burned out in a current career. Franchising is an ideal business for people looking for a way to use their skills and build wealth for themselves instead of for others. So, no industry experience needed is a true statement.
"Owning a franchise is being an entrepreneur."
This notion is false. The dictionary definition of an entrepreneur is "a person who organizes and manages any enterprise, esp. a business, usually with considerable initiative and risk," and that's not the typical franchisee. I feel that a true entrepreneur is someone who has a business idea and builds it out, following his or her heart with no help from anyone. A franchise owner on the other hand is a true business owner but is using someone else's idea and business model.
"If you buy a franchise, you'll make a lot of money."
This statement makes me laugh. Sorry but there are no guarantees in life, especially in business. I heard someone say, "The only free lunch is in a mouse trap. Don't get caught in that deception." I say that if you're the kind of person who thinks if you join a gym, you'll lose weight, then franchising is not for you. In a gym, you have to work and use the equipment and advice of the trainers and experts. The same is true in franchising. Just because you buy a franchise does not mean you will make money. You have to work it! However, just like someone who takes dieting and exercising seriously and has great results, the potential for success in a franchise is similar. I have to stress again, though, nothing in business is guaranteed. You results can vary depending on outside factors that are out of your control. Things could happen such as the county deciding to replace or repave the road you're on making it difficult for customers to get to you. These are issues that cannot be planned for, yet not a reason to refrain from going into business and following your dreams.
"You don't need money to buy a franchise."
This is definitely false. You do need money to buy a franchise. Refer to my Three Buckets of Money chapter. You will need initial capital, which includes the initial franchise fee and may also require you to sign a building lease and pay for the build-out, signage, inventory, marketing materials and employee expenses—all before you open your doors to the public. You will need a second bucket of money for payroll, and operating expenses for the period before your business starts making a profit, and that can take from several months to several years. In addition, you should have a third bucket of money, which is to pay your living expenses for yourself and family. You need to pay your mortgage, car payments, and put food on the table.
The need to have adequate capital cannot be overstated. One of the chief reasons for failure in a business, franchised or not, is undercapitalization. A million dollars is not needed, but great franchise businesses that are worthy of your effort and time require at least $150,000 net worth in order to obtain a loan from a bank and the ability to start with $50,000 liquid capital or down payment. There are a few ways to obtain this money, which I will cover in the chapter on financing a franchise.
"If you follow the franchisor's system, you can be successful as a franchisee."
Most franchisors will tell you that anyone who follows their system can be successful. Unfortunately, this isn't always true. While a franchisor's system may work well in some areas, it may not work as well in your location. However, the real key to this statement is to ask yourself whether you are someone who can follow a system you didn't develop. Let's face it—some people will read and follow instructions when putting together the IKEA bookshelves and some just "wing it." In life, there are advantages to each approach, but in franchising, the person who reads and follows the directions usually wins. I once heard a comedian say the reason lawyers are successful in life is because they read the directions.
Franchising is a great way for someone to be in business for herself but also have the support of a larger system that is invested in her success. It is no wonder why one in every twelve businesses operating in the United States today is a franchise.
Generally, wrong expectations in a franchise lead people down the road to failure. I know of people who spent their life savings on a business only to find it didn't make the money they wanted or needed. Other people end up unhappy with the time of day and number of hours they have to be at their store. As you evaluate franchises, always keep in the back of your mind that the service or product may dictate things such as hours, number of staff, or type of location. As an example, if your heart is set on an ice cream store, most of your business will take place at night and on the weekends. You will need to be in a high trafficked area and have staff who are typically high school kids. Even if it's the best ice cream in the world, will that operation fit into your lifestyle?
There has never been a better time to be in business. Owning and marketing a business has never been easier with this thing called the internet. Of course you want to have a great website but think about the reach you can have on the internet to customers who what your service or product. Social media easily can make a marketing guru out of almost anyone. These days it's so easy to shoot and upload videos to the internet. Experts say that video is the rocket ship to promotion. It adds value to your customers and helps you to build a relationship and trust before they speed a dime with you.
If you're thinking about franchise ownership. Get the facts. Don't be lead by unscrupulous sales people who have their hand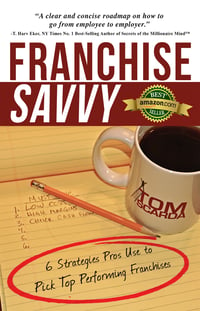 on your wallet. There are lots of books written on franchise ownership. You can get my #1 bestseller, Franchise Savvy: Six Strategies Pros Use to Pick a Top Performing Franchises on Amazon.com. It's also available on Kindle and as an audio book on Audible. Check all out here: Tom Scarda's Amazon Author Page
Would you like to pick my brain about franchising for 15-minutes? (No obligation, no kidding) Feel free to book an appointment here: