Have you thought about strategies to attract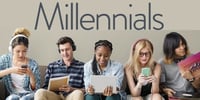 millennials to use your products or services? How about talking to the younger generation about buying into your franchise concept as a franchisee?
Anyone born between 1981 and 1996 (ages 23 to 38 in 2019) is considered a Millennial. Mary Simmons, PHR, SHRM- CP, a Human Resources expert for almost three decades, shares how to embrace and attract millennials to your business. Currently, in numbers, millennials are the largest part of the U.S. economy.
Listen to this Podcast and hear about ideas on how to understand the newest and largest economic force in America.
Listen here: https://thefranchiseacademypodcast.com/attracting-millennials-franchise/