Guest Post: Gloria Martinez - Womenled.org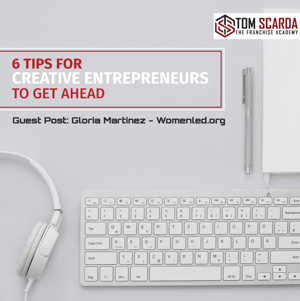 Being a creative entrepreneur can seem glamorous and exciting, but most of us know that the reality can be a bit different. Creative careers are famously unstable, and while everyone knows this going in, experiencing it is a whole different story. Loneliness, financial insecurity, burnout, and lack of support can all take a toll. Here's how to push through, get ahead, and make the most of doing something you are passionate about.
Do Your Research
When starting out a new business, it is easy to become overwhelmed. You're confident in your creative skills, but that doesn't mean you are confident in all the other skills needed to be an entrepreneur. The good news is, you don't have to be.
The internet is full of excellent advice on just about everything to do with starting a business, most of it for free. Guides like this one by Square can help you figure out everything from market research to writing a business plan and finding financing. When in doubt, look it up. That's what every other entrepreneur does.
Build A Network
Creatives have a tendency to retreat into their work, which can lead to a slightly antisocial approach to work. For many, this is part of the joy of creative entrepreneurship - no small talk at the office, no one hovering over your shoulder asking what you are drawing, just you and your work.
Unfortunately, it doesn't quite work like that. Creatives need networks to attract new clients, find mentors, and grow their career. More importantly, creative freelancers need to make sure they are getting enough social interaction for their mental health.
Women have somewhat of an advantage here, with plenty of women-only networks popping up every day. For example, SheSays organizes events all over the world for women in the creative industries.
Keep Up Your Personal Projects
It's easy to let the paid client work completely take over your creativity, because after all, you need the money. But this can easily lead to burnout, and to a loss of interest in your passion.
This Adobe blog post explains it well: personal side projects allow you to keep innovating and find your style, but they can also be a powerful marketing tool. Share your personal work online, and you never know who might want to hire you based on it.
Consider A Part-Time Gig
According to the Motley Fool, 63 percent of freelancers are financially unstable. This is perhaps the biggest downside of the flexibility and independence offered by creative work.
In the long run, you will hopefully have reliable clients and be able to charge high rates that cover down periods. Until then, consider taking a part-time job that will keep you afloat, while leaving you ample time to build your business.
Don't Stop Learning
Every creative knows that they have never finished learning, but it can be hard to find time for development when you are juggling deadlines. However, it is important to make an effort to keep honing and broadening your skills. Skillshare is a great platform to learn specific creative skills and techniques, and the option for online classes give you the flexibility to learn when it suits you.
Outsource
At first, you probably won't have the budget to outsource parts of your work. But as your career advances and your rates go up, you will have a bit more money to work with. You can hire a social media manager. You can pay an accountant to keep track of your finances, or invest in accounting software. You can even outsource creative services that aren't your "thing," even if you are capable of doing them.
Finally, it's important to keep reminding yourself of why you decided to do this. Creative entrepreneurship was never the easiest option, or the most immediately profitable. Most of us chose to become creative entrepreneurs because we love something.
Whether that's design, art, photography, writing, or anything else, creatives put up with the hard stuff because they love what they do. Whenever things get difficult, focus on this. Life might not look exactly how you want it to just now, especially in the first year, but keep at it and it will soon enough.